This week we are offering a special RAK to one lucky participant. So to be in the running for a little surprise packet
join in the chatter from 7.30pm
and complete your layout based on my recipe this Thursday 7/8/08. (and for anyone worried about my Kye's white spaces I promise there is next to none on this layout!!)

Ingredients :
Photo - 5" x 7" landscape (or you might want to use 2 smaller portrait photos)
2 x Patterned Papers (one light pp with only a soft - if any- pattern)
1 x PP plus 1 x CS 1 piece scrap c/s 9 cm x 5cm
Title - chipboard alphas plus small stickers - or similar
2 x Chipboard Hearts (approx 9cm and 5 cm)
1x Chipboard Circle (approx 4 1/2 cm) I have used a HS clock
12 x small / medium flowers (3 diff colours in 3 diff sizes) If you haven't got 12 - then 4 flowers will work
Rub-ons or acrylic stamp flourishes / swirly flower stems or pen to doodle
Ink or paint or extra scrap pp for chipboard embellies
Don't forget you can substitute embellies to suit.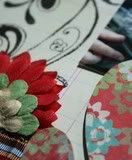 later tonight. Hope you can join me!!